Maria Gatto presented: Bordering Nubia: Egyptian border-making in the First Cataract region and its impact in Lower Nubia
The process of state formation has been of paramount importance in the history of ancient Egypt. It led to the creation of the earliest form of territorial polity worldwide, defined by geopolitical borders of some sort. Ancient Egypt bordering practices and resulting borderscapes are often discussed in the frame of inward dynamics and for the dynastic and post-dynastic periods only. The original process of border-making and its impact on neighbouring communities are less acknowledged. This presentation draws on the work of the BORDERSCAPE Project (Polish Academy of Sciences), which investigates how Egyptian state formation impacted and transformed the socio-spatial landscape of the First Nile Cataract region in the fourth and third millennia BCE. It aims at addressing changes in settlement patterns and social scenery in the northern part of Lower Nubia between the fourth and third millennia, interpreting them in the frame of local socio-cultural and political dynamics and the interplay with Egypt.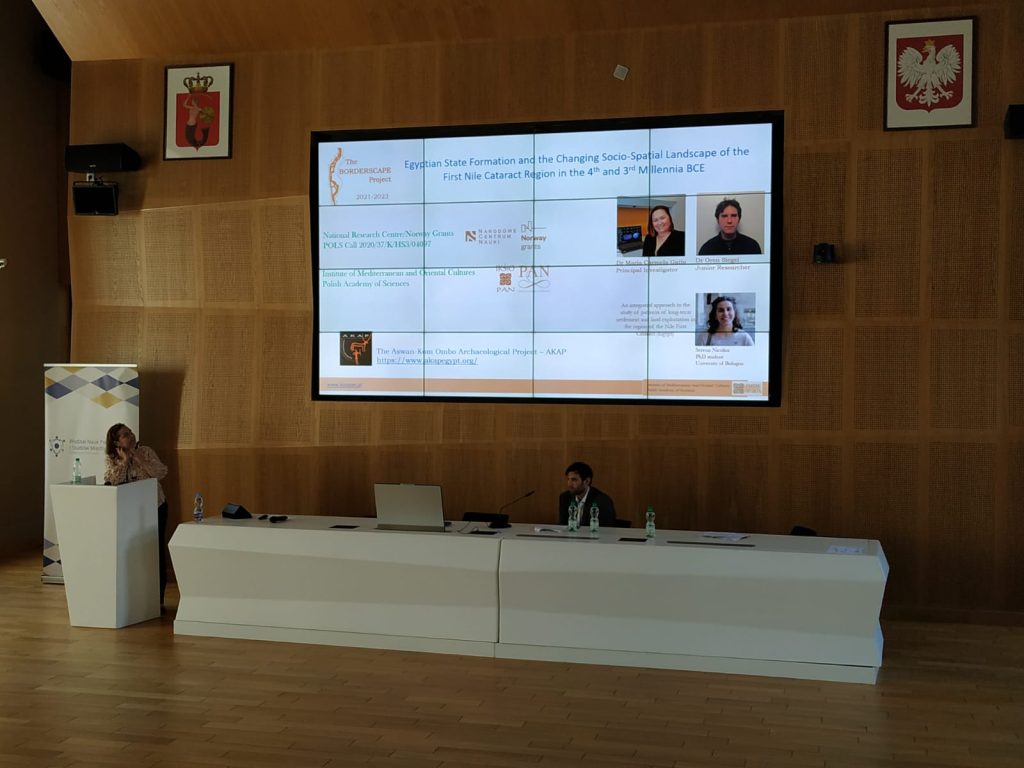 Oren Siegel presented: Wall-scapes: reevaluating the Aswan-Konosso and Semna-Uronarti wall systems
Monumental walls play an outsized role in our imagination of contemporary borders, but were also instrumental in fashioning past "borderscapes" near Elephantine and Konosso. Drawing on the Borderscape Project's theoretical analyses of the First Cataract region, I will re-evaluate the role and purpose of two of the longest wall constructions known from Pharaonic Egypt: a 12th-Dynasty wall stretching roughly 7 km along the Nile's east bank from Aswan to Konosso and the nearly 5-km-long section of wall stretching north from Semna towards Uronarti. Specifically, I will locate the importance of these features in managing and channeling migration and trade through very specific corridors: they were primarily efforts to shape economic boundaries. In part through the reification of particular circuits of economic transactions/praxis, such economic boundary-making efforts influenced subsequent conceptions of an ideological boundary at Elephantine. After reviewing the archaeological evidence for these monumental walling projects, I will discuss some of the evidence furnished by recent survey work around the Second Cataract near Semna and Uronarti. Following this discussion, this material will be analyzed in conjunction with the textual and archaeological evidence for robust surveillance of these boundaries during the Middle Kingdom and New Kingdom, while contrasting the "afterlives" of the Aswan-Konosso wall and its counterpart at Semna during subsequent periods. The concluding section will address the role of these architectural features in defining particular patterns of economic activity, and the broader consequences of this standardization for the political and physical landscape of Lower Nubia.